I am a freelance writer and qualified veterinarian. I hold additional degrees in microbiology, zoology and epidemiology. Most of my veterinary career has been in aquatic animal pathology. I am interested in almost everything and can transmit this enthusiasm through my writing.
My home is in a small town called Stanford, where most people keep chickens and the more crazy have sheep. The sheep below is Chuck, a serious badass.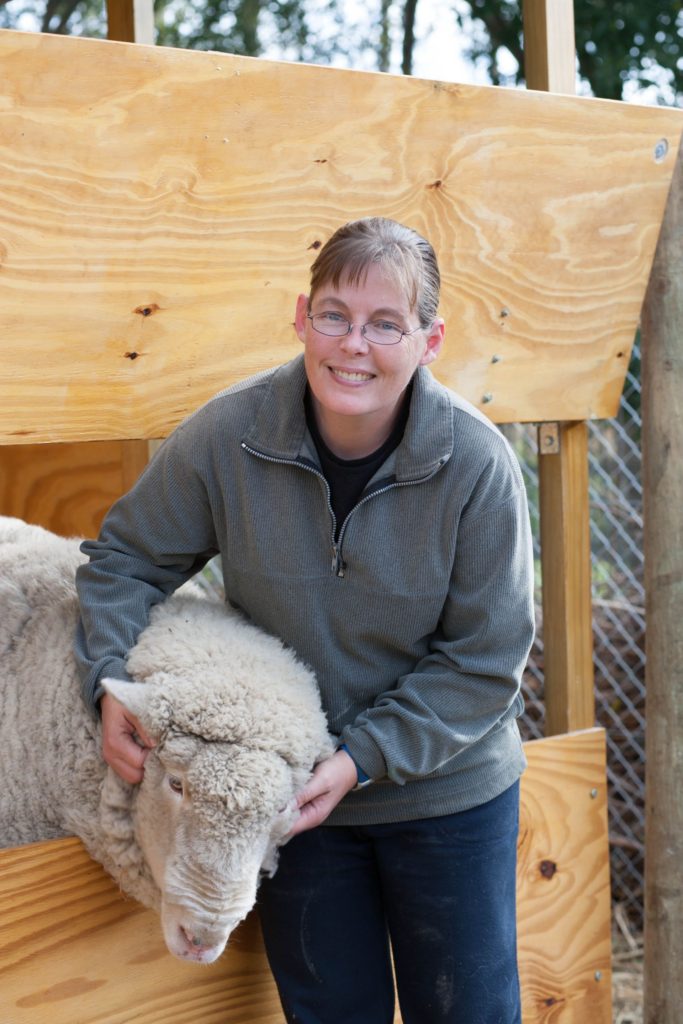 Curriculum vitae
Qualifications
• 2010. Master of Science. University of Pretoria. Epidemiology.
• 2002. Bachelor of Science University of South Africa. Majored in microbiology and zoology.
• 1995. Bachelor of Veterinary Science. University of Pretoria.
Selected courses
• 2017. Writing in the Sciences. Stanford University. Offered on Coursera.
• 2017. Article Writing Masterclass. Offered by the Freelance Writers Den.
• 2016. Chicken Behaviour and Welfare. The University of Edinburgh. Offered on Coursera.
• 2016. Understanding Clinical Research: Behind the Statistics. University of Cape Town. Offered on Coursera.
• 2014. Case-Based Introduction to Biostatistics. Johns Hopkins University. Offered on Coursera.
• 2014. Experimental Genome Science. University of Pennsylvania. Offered on Coursera.
• 2014. Introduction to Forensic Science. University of Strathclyde. Offered on FutureLearn.
Employment history
• May 2017 to present: freelance writer. I have written for Aquaculture Magazine, AnimalTalk, Hortgro Science and The Fish Site. I also produce a monthly newsletter for Fairholme Plants.
• September 2017 to present: veterinary histopathologist. I continue to evaluate sections of abalone and other shellfish on a freelance basis.
• September 2007 to August 2017: veterinarian and general manager, Amanzi Biosecurity, Hermanus, South Africa. As a veterinary pathologist, a significant amount of my time was devoted to viewing histological sections through the microscope.
• October 2002 to August 2006: veterinarian and research coordinator, Abalone Farmers' Association of South Africa. I spent most of my days either visiting aquaculture operations or examining histological sections of fish and shellfish. I also reviewed research proposals and facilitated the communication of research results.
• February 2001 to August 2002: veterinarian, Regional Veterinary Laboratory, Department of Agriculture. Bacteriology was an important part of my job and included food hygiene. I was also responsible for fish and shellfish pathology, as well as pathology of laboratory animals, small mammals and exotics. I learnt that laboratory rats often have hidden infections that may impact research results and that it is extremely difficult to catch African clawed toads.
• September 1996 to January 2001: diagnostic bacteriologist, Onderstepoort Veterinary Institute, Agricultural Research Council. Diagnostic bacteriology involves culturing samples to diagnose disease and inform treatment and vaccination. Besides bacteriology, I was responsible for pathology of aquatic animals such as fish and shellfish, but I avoided crocodiles.
• July 1995 to August 1996: I practiced as veterinarian in England and South Africa, initially in a rural Yorkshire practice, where I discovered that I have no aptitude for cows. I then kept to dogs, cats and the occasional pocket pet.
Publications
• Mouton A. 2017. Red tide devastates South African abalone farms. Aquaculture Magazine June 2017 pp32-35.
• Boonzaaier MK, Neethling S, Mouton A and Simon CA. 2014. Polydorid polychaetes (Spionidae) on farmed and wild abalone (Haliotis midae) in South Africa: an epidemiological survey. African Journal of Marine Science 36(3) pp 69-376.
• Mouton A, Crosbie P, Cadoret K and Nowak B. 2014. First record of amoebic gill disease caused by Neoparamoeba perurans in South Africa. Journal of Fish Diseases 37(4) pp 407-409.
• Macey BM, Christison KW and Mouton A. 2011. Halioticida noduliformans isolated from cultured abalone (Haliotis midae) in South Africa. Aquaculture 315(3-4) pp 187-195.
• Mouton A and Gummow B. 2011. The occurrence of gut associated parasites in the South African abalone, Haliotis midae, in Western Cape aquaculture facilities. Aquaculture 313 pp 1-6.
• Pitcher GC, Franco JM, Doucette GJ, Powell CL and Mouton A. 2001. Paralytic shellfish poisoning in the abalone Haliotis midae on the west coast of South Africa. Journal of Shellfish Research: 20(2) pp 895-904.
• Mouton A, Basson L and Impson D. 2001. Health status of ornamental freshwater fishes imported to South Africa: a pilot study. Aquarium Sciences and Conservation: 3(4), pp 327-333.